Chris Hemsworth Is The Hottest Avenger – There We Said It and, These Pictures Prove It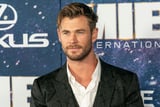 Our favorite Avenger, whoops, sorry. We meant, our favorite actor in The Avengers franchise, Chris Hemsworth turns 37 today, Aug. 11.
In celebration of his birthday, we've compiled a gallery of the blue-hottie's most swoon-worthy pictures.